Print Services...
TOTAL ESSENTIALS
Sometimes God's vision for a church can only be portrayed with graphics that step beyond what is required and even beyond the beautiful, to being second to none. That is what the Total Essentials print package from KEPHA delivers to your church; providing members with stunning graphics combined with all the essential requisites of the highest level Capital Stewardship programs.
Included: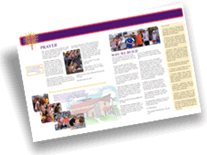 Design
From the custom designed campaign logo to the multilayered graphics, every piece produced is beautiful in its stunning delivery of your message. Rich graphical imagery and unique specially designed campaign pieces add to the inspirational evocation that this package will bring to your Capital Stewardship Campaign process. Combine it with the KEPHA HeartSong or Parable video/DVD packages and the emotional quotient rises exponentially to bring swift affirmation that truly yours is indeed a worthy cause.
The Writing
Total Writing package wherein KEPHA's writers provide a complete writing service (or assist) for all your selected items, subject to your approval.
The Printing
KEPHA will provide all your printed materials with High-End papers selected by you and KEPHA. Aqueous Coating (if gloss is required by design) Total CMYK 4-color process printing on a Hiedleberg commercial offset press.