Offering video production, web and print development services, KEPHA was founded on one simple principle: provide the most creative media services at a great value. Our goals are to do exactly that for our clients, and have fun, while producing outstanding creative work.
Thank you for visiting our site. Please feel free to explore the possibilities by reviewing our:

Video/DVD
Our services are comprehensive: high end video production, state-of-the-art non-linear digital editing, stunning graphic design & animation, creative concept development, scriptwriting, DVD production, and streaming video on the web.

Web Services
The Internet is an essential tool for today's church communication. But, a church needs more than just an Internet presence. Today, to be effective, a church web site must be interactive and continuously up-to-date.

Print Services
Press releases, feature articles, ghost writing, and copywriting, along with complete printing packages for your Capital Campaigns.

Success Stories
Our long lasting relationships are the true testament to the quality and value of our work and services.
"Their Internet system of shared files, reminders and oversight was very effective and...when I became ill during the Campaign process, KEPHA handled things by filling in newsletters and other materials with trusted resources that fit us wonderfully well." 
Gregory Waldrop, Pastor
Fountain Avenue United Methodist Church
refresh the page to read more KEPHA talk

"Touching hearts isn't found in the technology. That emotional connection is an inspiration revealed only in the genuine relationships between people!" Mark Duncan President - KEPHA Resources

elcome to KEPHA
where
relationships
are key. Yes, we provide state-of-the-art system (IT) consulting, beautiful High-Definition video productions for all budgets, unique graphic designs, short-run printing services of those designs and amazing website development and design — but, more than providing this technical expertise, we want to know and understand people; to become an active participant and an ongoing contributing partner.
Relationships are the key to fulfilling that mission.
From the very beginning, almost twenty years ago and over 3,000 projects, we recognized that it is our customers who determine what our business is, what it should produce, and how the ministry of KEPHA would prosper:
Understanding
Creative development begins with a
primary element
— you, our customer.
To be customer centered requires time — time to discover your needs, time to become sensitive to subtle meanings, time to develop a keen eye for detail, time to develop an awareness of and respect for culture, history, and tradition.

This is the combination that develops an acute understanding of how to inspire your people.
Gifted People
People are our greatest
resource
. We have gifted professionals who work on writing, production, editing, artwork, printing, content, and distribution. From initial concept through delivery, they employ those gifts to produce the highest quality. But more important, they are devoted to the ministry of KEPHA.
Our people are driven by three basic principles: a deep spiritual grounding, an understanding of the importance of intense communication, and a special creative drive for perfection. That combination is what guarantees that KEPHA will deliver your message.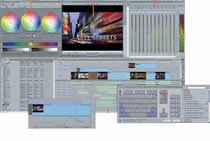 State-of-the-Art Technologies
Gifted people do their best when they use the best tools available. KEPHA does that.
Video/DVD - as a full-service video production and multi-media development company we utilize the latest in HD video technologies. We deploy complex shooting processes that demand perfection in equipment, lighting and sound, while simplifying these complex processes for our clients. Our high-end editing systems, used in the post-production process, ensure that clients receive the highest quality video/media with delivery in any format they prefer.
Website & System Services - brings an ability to produce a full range of website design, website hosting options, graphic design, e-commerce, search engine optimization, networking and hosting capabilities. Additionally, we specialize in Content Management Systems with database driven applications that make our clients' sites easy and inexpensive to maintain.
Layout, Design, & Composition (print) - requires the latest in software applications as well as seasoned graphic designers and over 19 years of KEPHA partnering with church clients. The results are beautiful functional designs with targeted materials tailored to each client. At KEPHA we never force a client into a pre-designed template with static layouts or themes requiring them to adapt to something they are not. Instead, every KEPHA client receives a custom design tailored to their particular need. In other words, the client doesn't adapt to us — we adapt to them.
Print & Mailing Services - at KEPHA, is a combination of low cost short-run print capabilities and specialized mailing-house services so clients are no longer required to produce massive quantities of printed materials ahead of time, and our CASSTM supported mailing services will reduce the cost of client mailings by tracking and/or forwarding mail pieces to verified U.S.P.S. addresses. The result: lower initial costs even for non-profit permit mailings and fewer address correction returns. Mailing with KEPHA saves money.
This combination of High-End video, Internet savy processes, specialized Design and Layout, and low-cost printing with certified mailings allows us to assist our clients with their entire communication process.
---
How can we help you?
For more information call toll free: 800.342.3316


Or simply E-Mail Us